Manage payments with Stripe
Manage payments with Stripe
About Stripe 
Stripe is a solution for accepting payments online. Stripe is a versatile payment solution that offers several payment services such as:
subscription management
order management
payment management on marketplaces with Stripe Connect
Stripe is available today in 135 countries and can receive payments in several tens of currencies, details of which can be found here:  Lists of currencies supported by Stripe.
In order to meet the specific needs and constraints of marketplaces that involve more complex payment flows (sequestration, separation of funds, etc.), Stripe offers a complimentary service called Stripe Connect.
Stripe Connect on Kreezalid
Kreezalid natively integrates Stripe Connect as a payment solution for your marketplace.
The configuration of Stripe Connect on Kreezalid is Custom Account. You can learn more about using Stripe Connect with Custom Accounts here.
This means your vendors don't have to create a Stripe account of their own. They will use Stripe seamlessly on behalf of your account.
Connect your Stripe Connect account to Kreezalid
The first step is to create and activate your Stripe account. If you have not yet created your Stripe account, find the procedure here: Create a Stripe account
---
Step 1 :

Get your Stripe account API Keys

To connect your Stripe Connect account to your Kreezalid marketplace, then go to your Stripe dashboard :

Developers → API Keys to retrieve the Publishable key and the Secret Key.

To reveal the secret key click on the button "Reveal live key token".

Be careful, your login must start with: pk_live and sk_live. 
If the information starts with pk_test and sk_test, then remember to disable the test mode :

---
Step 2 :

Add your API Keys to your marketplace

Then fill in the form relative to your payment provider information in your Kreezalid admin panel: 

Settings → Payment Providers → Stripe.

Make sure to complete both fields before clicking the button "Save" :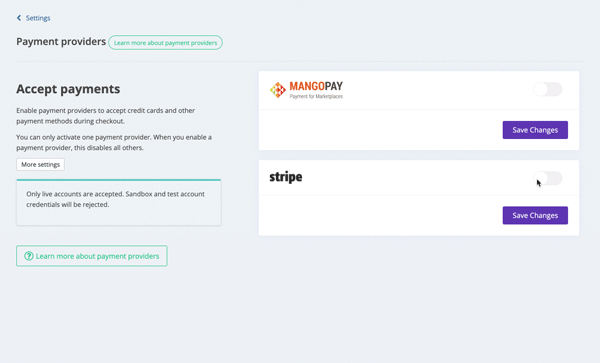 In case of an error, we will display an error message to indicate an error.
If you have already activated a payment provider and you want to change, you will have to contact our support team so that we allow you to modify your information. This will imply in the case of Stripe Connect that all your salespeople validate their Connected Account again (see KYC or Identity Verification). That's why this type of change involves contacting our support.
Manage your vendors' account
To accept money on behalf of your vendors, the payment solution needs to collect basic identifying information from your sellers, this is the Identity Verification Process.
When a seller creates his first ad on the site, a message at the top of the page tells him to complete an information form:

This message remains visible at the top of the site as long as the user has not completed his information. During this period, Stripe cannot collect the money on behalf of the seller. His ads are visible, but the purchase button is not displayed on his listings, so his products or services cannot be purchased.
If the purchase button is not displayed on your vendors' listings, make sure that they have completed the information required by Stripe.
Until the identity verification process is completed the vendor account will be marked as Restricted in your stripe Dashboard  :

This means additional information needs to be collected to enable payouts or payments. Hovering over the status badge in your Stripe Dashboard displays:
Which capability is disabled (payouts or payments)
What information is required to enable the account
Managing Connected Accounts with your Stripe Dashboard 
You can use your Stripe Dashboard to inspect all transactions made on your marketplace. Some common tasks supported by the Stripe include:
Viewing all accounts
Updating account information
Sending funds to accounts
Perform manual payout
Perform manual refund