Manage my listing attributes
Manage my listing attributes
On Kreezalid, you can manage different categories of listings. For each category, you can define specific options called ad attributes.
To create or edit ad attributes, go to your admin dashboard on:
Settings  > Listings  > Listing attributes
The attributes appear on the listing creation form.
It is the seller at the time of creating his listing that completes the information relating to these attributes according to the category of his listing.
An attribute can belong to one or more categories
Listing Attribute Intelligence May Be Mandatory or Optional
An attribute can be used as filters in search results
Attributes must be defined according to relevant criteria for research
An attribute can have several forms:

Text field
List of choices (with options that you set in advance and from which the seller will have to choose))
Yes / No type question
Date
Checkboxes (with options that you set in advance and from which the seller will have to choose)
Number
Link
Price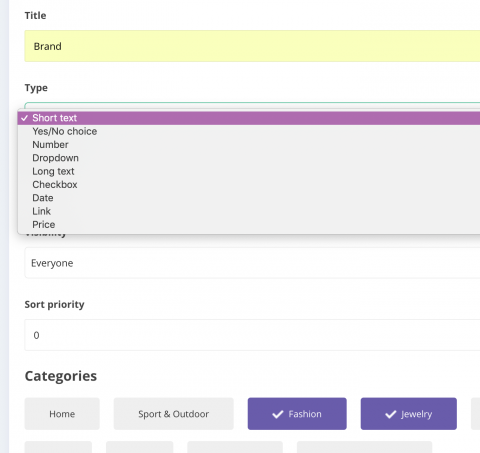 To appear on the listing creation form, the attribute must be linked to at least one listing category : 
Parent category

sub-category

Listing Attribute

Woman fashion

Dresses

Skirts

Shoes

Size (SML XL)

Color (Red / Green ...)

Size (7/8/10 ...)

Personal Coach

Surf coach

Diving coach

Swimming Coach

Location