Modern marketing automation tools can help your marketing team accomplish tasks faster and streamline your processes and workflows, saving you a huge amount of time and effort.
Build your online marketplace today!
Benefit from a 7-day free trial, with no obligation or payment card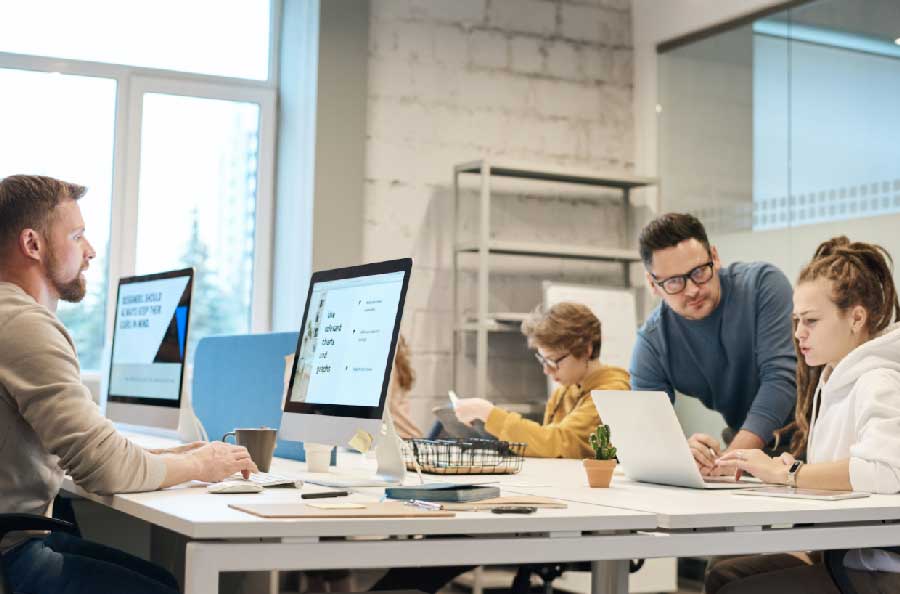 Image Source: Pexels
And as your teams shift towards remote work, marketing automation can help your whole team collaborate more efficiently to achieve your business goals.    
In this guide, we'll take a closer look at how automation benefits your digital marketing teams and your remote staff.
Understanding marketing automation
Marketing automation is about using software, platforms, and tools to create, consolidate, and automate many marketing-related initiatives and tasks. 
Marketing automation software helps marketers automate repetitive and manual processes to improve marketing workflow efficiency, deliver greater campaign personalization, increase Key Performance Indicators (KPIs), generate more leads, and increase revenue.   
Many digital marketing initiatives can be automated in some way, including email marketing, paid ads, social media, and others. 
With automation, marketers can focus their time and resources on delivering more robust and compelling messaging across multiple channels to leads and customers.
1. Targets prospects across multiple channels
Running multiple campaigns and trying to reach as many potential leads and customers as possible can be labor-intensive and eat up a lot of your marketing teams' precious work hours.
Marketing automation software with robust features can streamline this process, allowing your marketing team to automate delivering personalized content and reach more audiences across different channels with minimum effort.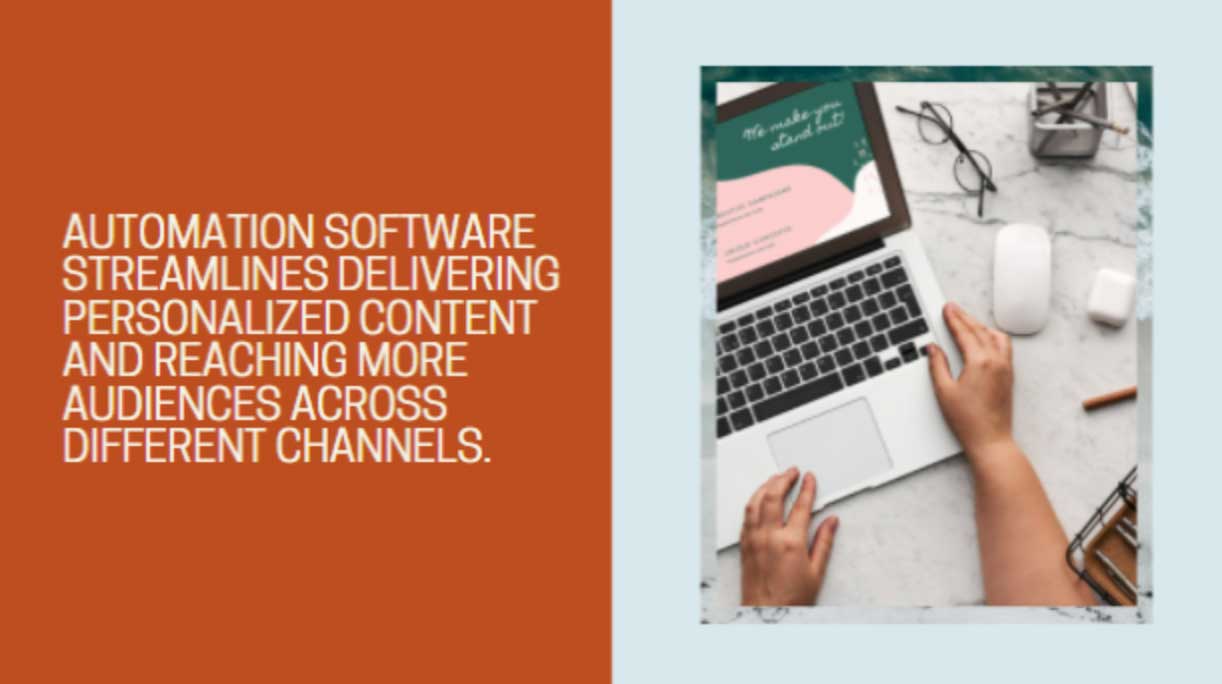 For example, in your marketing sequence, you can automate actions, such as sending an email, SMS, or chat through social media platforms, that are triggered when leads and customers complete a transaction and sign up for your email newsletter (among others). 
This makes your audience targeting efforts more efficient and increases your productivity since automation eliminates the need for manually tracking your leads and sending the appropriate responses as they move through your sales funnel. 
Additionally, once your customers trigger the automatic responses, your team gets notified, and they can step in (when necessary) to close the deal and provide a more personal approach.      
2. Refines your marketing processes
One of the great advantages of using marketing automation software is that it requires you to visualize your marketing strategy and customer journey to create processes around them. 
While this might not be an obvious benefit, it helps you gradually refine how you nurture and target leads, improving your strategies and, in turn, increasing your conversions and sales.  
For instance, with marketing automation software, you can create automated lead nurturing sequences that trigger individual actions or campaigns when your leads reach a specific customer journey stage. 
This lets you visualize the sequence in a funnel, allowing you to see where your leads fall off in your nurturing process and refine your strategies to address those gaps.  
It's an excellent way to improve your marketing campaigns' effectiveness, including refining your marketplace marketing strategies to boost your sales.  
Additionally, a fine-tuned marketing process helps your different teams, whether working remotely or not, implement the right strategies and work more efficiently to generate more conversions and sales.  
3. Streamlines your marketing tasks
Essential marketing tasks such as gathering data and conducting research can help you implement your marketing strategies effectively. But it can take a huge chunk of your marketing and remote teams' time and effort. 
Automation tools can streamline these marketing tasks by automatically collecting, storing, and analyzing your prospect and customer data to properly implement your marketing campaigns. 
This time-saving automation feature allows your remote and non-remote teams to gather and gain access to necessary data faster. 
It helps expedite marketing workflows, saving your teams a lot of time to focus on core marketing tasks instead.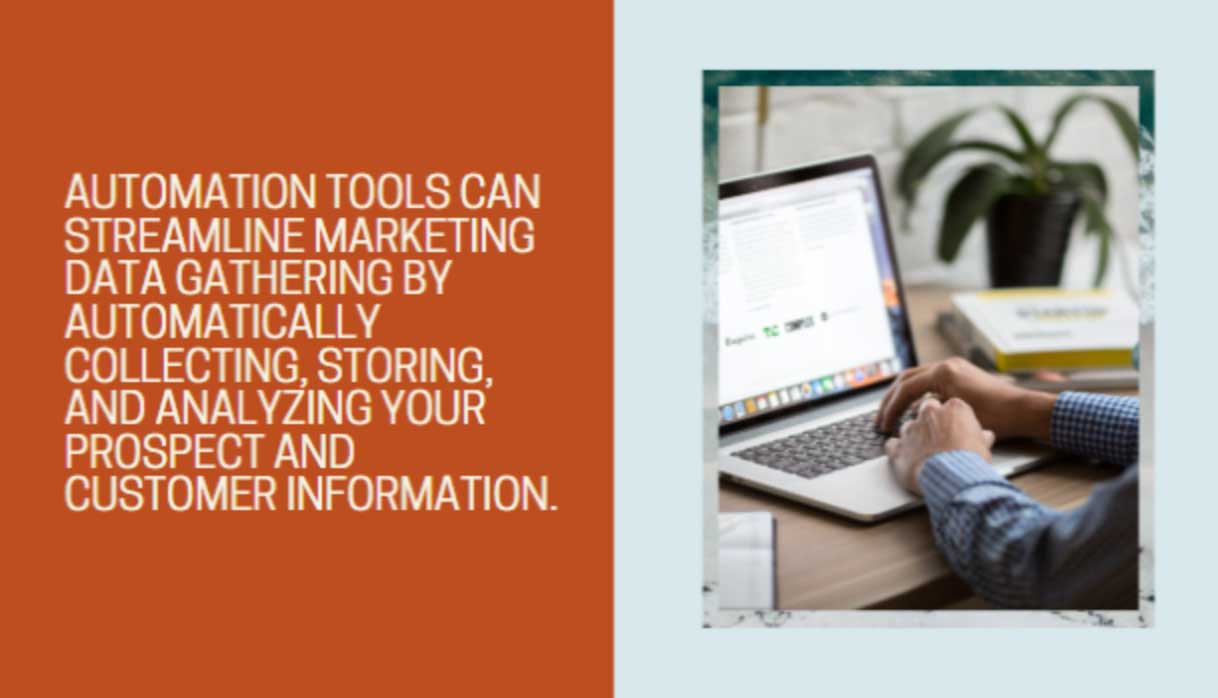 Marketing automation software can also streamline your social media marketing tasks by letting you create, organize, and schedule your social media campaigns and posts in advance. 
With this, your teams can create a month's worth of social media content, create posting schedules, and the automation tool will post the content to your intended social media platforms for you. 
4. Expedites content personalization
An excellent way to improve the customer experience is to deliver personalized marketing content. 
After all, the better you tailor your content to your customers' needs, preferences, and what they find valuable, the more likely they will trust your brand and buy your products and services. 
Here are several ways that marketing automation helps with personalizing your content.
Provides accurate and rich data

. Marketing automation software can give you data insights to tailor your content based on what your customers are looking for online and their shopping, social media, website, and purchasing behaviors.

Streamlines audience segmentation.

Marketing automation tools can automatically segment your audiences based on their demographics, interests, buying behaviors, etc. This helps you deliver the right content to the right people at the best time, including offering personalized offers and recommendations. 
Marketing automation software provides the tools, data, and insights you need to know what your target audiences want. This helps you tailor your content based on those needs, improving the customer experience. 
5. Improves team productivity
Essentially, marketing automation software can streamline your marketing workflows and tasks and, in turn, boosts your teams' productivity. 
It can also bridge the gap between your sales and marketing departments or your remote and non-remote workers, allowing them to collaborate more effectively. 
Learn some of the ways that automation can improve your marketing teams' productivity.
Better time tracking.

Most marketing automation software offers clocking tools that let you set deadlines for your marketing teams and remote workers. This helps your team finish marketing projects and tasks on time, boosting their productivity.   

Run automated campaigns

. Features such as automated drip email campaigns, automated email workflow designs, and autoresponders reduce the need for human input for these campaigns to run. This allows your marketing team to reach more audiences quickly and gain results faster. 
Marketing automation tools can do the heavy lifting, allowing your marketing teams and remote staff to streamline task accomplishment, improving overall productivity and efficiency. 
Final thoughts
Automation offers tons of other benefits for digital marketers and remote marketing teams.

Invest in the right marketing automation software that matches your unique business needs, apply the right strategies, and assess your marketing automation performance, and you'll be good to go.