How do you build a marketplace website? In this guide, you learn how to build an online marketplace website this year!
Build your online marketplace today!
Benefit from a 7-day free trial, with no obligation or payment card
Want to know how to build an online marketplace website?
In today's guide, you'll learn how to build your own marketplace website, even if you have no coding skills.
Want to learn more? Read on!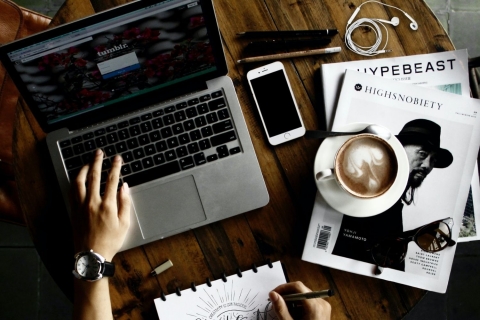 Source: Pexels
What is a marketplace?
Let's start from the beginning:
How do marketplace businesses work? 
Great question. A marketplace business is a business where sellers and buyers meet and exchange value. Marketplaces can be business-to-consumer (B2C) and business-to-business (B2B) businesses. Not all marketplaces are based on purchases; they can also be based on renting, swapping, or offering something else of value. 
Marketplaces are different from single-vendor online businesses because marketplaces only facilitate the transaction between marketplace users; marketplaces don't sell anything directly to the end consumer. Plus, marketplaces are multi-vendor platforms with multiple vendors who sell to buyers. 
The main benefit of marketplaces is just that -- it's a place where buyers can find plenty of vendors and buy more flexibly than if they would buy from a single-vendor business.
So it's no surprise that online marketplaces are booming. Amazon is a marketplace and the most valuable brand in the world. 
What's more, B2C marketplaces are estimated to reach $3.5 billion in sales by 2024. 47% of digital purchases worldwide happen via online marketplaces. One-third of all US business flows through e-commerce of which 63% is performed via marketplaces. 
In other words, the industry is growing fast. But are marketplaces a viable business model? 
How do online marketplaces make money?
Marketplaces make money in different ways. The most common pricing model is that the marketplace platform charges a commission for every sale. Just think of a marketplace like Airbnb where you're charged a fee depending on the amount you're spending on the marketplace. 
However, there are also other pricing models. One is a direct fee, irrespective of the amount purchased, a signup fee or payment fees. 
Then there are marketplaces' own products, such as Amazon Prime. 
How much does it cost to start a marketplace? 
The cost of starting a marketplace business depends on your goals and funding. As such, starting a marketplace business can be very affordable. 
All you need is your idea, some marketing savviness, and a marketplace builder (a software platform, such as our own platform Kreezalid, that offers no-code drag-and-drop tools). 
In that case, starting your marketplace business can cost under $500. 
But if you want to develop your own website, add team members, and so on, your costs obviously will increase. Just developing a website from scratch will cost you $20,000 and up. 
How do you actually build your marketplace? That's what we'll look at next. 
How do you create an online marketplace like Ebay, Etsy, or Amazon?
Going from idea to launching a marketplace doesn't have to be complicated. Here are the steps to follow to ensure that your marketplace is successful from the start.
How to find a great marketplace idea that you know will work 
First, how do you choose the right marketplace idea? 
Not every business idea will work. You need to ensure that you have an idea people want. 
For example, take Airbnb. Before it launched, the typical way to travel was to book a hotel. However, some travelers did use services like HomeAway for home swapping and rental websites. So it wasn't a completely new idea -- Airbnb just made rentals easier. 
There are a few steps you need to take to validate your own idea.
First, talk to people who would be your ideal users. These people are probably not your family and friends because you want more objective answers. 
A great way to meet your ideal users is to reach out to them in online forums. For instance, if you are building a marketplace for parents, you could search for people to talk to in Facebook groups or Reddit subreddits for parents. 
Understand how they would use your marketplace and why they want it so that you're able to present it in the right way. 
Here's more on how to find a marketplace idea. 
How to choose your pricing and business model 
Next, it's time to choose your business model and pricing strategy.
What type of marketplace are you building? E-commerce, rental, or something else? Are you building a B2C or a B2B marketplace? 
And how will your marketplace make money?
Some of the most common pricing strategies are:
Commission
You as the marketplace owner get a share of the transaction. If you think about the biggest marketplaces, they typically ask for a commission (marketplaces such as Etsy, Airbnb, and Upwork). 
Subscription
A subscription pricing strategy means that people pay you every month to use your marketplace. This pricing strategy is common among B2C marketplaces that deal with larger transactions. 
Sign-up fee
Another possibility is to ask for a sign-up fee. However, remember that this creates a hurdle for people to join your marketplace, so it typically works best if you have a strong brand and your industry is rather niched. 
Listing fees
Some marketplaces charge a small amount to allow you to list your products on it. These are often e-commerce marketplaces. Think: Etsy and Amazon. 
Ads
Another pricing model is ads. In that case, users pay to get more visibility on your platform. For instance, several food delivery services use this strategy. 
Freemium
If your marketplace is free to use but you offer extra services (insurance, customer service…), you use a freemium model. So, your users add on different services that they pay for. 
Here you can learn more about marketplace business models and pricing strategies. 
How to build a marketplace website from scratch 
The best way to build an online marketplace platform is to use a marketplace website builder like Kreezalid. 
Marketplace website development from scratch is expensive and time-consuming, whereas a no-code marketplace builder allows you to get started right away. 
With Kreezalid, you can build your website in less than an hour with features such as:
Beautiful website designs

User accounts

Listings 

Payment methods

And more 
Essentially, you get it all at the fraction of what it would cost to build your own website. Plus, if you need customization, Kreezalid offers that, too. 
How to grow your marketplace
Finally, how do you continue growing your marketplace? 
Once you have an idea and you've created your website, it's time to start growing it. 
In this post, I share the best marketplace marketing strategies you can use as a new marketplace owner. 
And when you've acquired your first users and you have proof that your marketplace works, it's time to scale, which you can do with more scalable strategies like SEO, digital advertising, and more. 
Overall, you need to become an expert at tracking your numbers to build a sustainable business. You can read more about marketplace metrics in this post.  
Over to you!
There you have it! Now you know how to build an online marketplace website.
What it comes down to is choosing the right business model and idea, keeping your costs down, tracking your numbers, and spreading the word about your business. 
Want to get started today? 
Try Kreezalid for free with our 14-day trial (no credit card required).