Different kinds of businesses expect more sales at different times of the year, but nearly every brand runs some form of holiday promotion on or around Black Friday.
Build your online marketplace today!
Benefit from a 7-day free trial, with no obligation or payment card
The stretch from Black Friday to Cyber Monday is the most popular time for Americans to shop both online and in physical stores, and an effective holiday campaign can provide a substantial sales boost.
This article will cover some of the most effective ways to prepare your brand for Black Friday and develop promotions that lead to increased traffic and conversions. Keep in mind that every brand is different—it's important to tailor these strategies to your unique approach and identify the tactics that resonate with your audience.
#1. Start with an Offer They Can't Refuse
The strategies you use to market your Black Friday deals will have a significant impact on sales during the holiday season, but the offer itself is what entices readers to make a purchase. Every Black Friday campaign should start with an offer that makes customers feel like they don't want to miss out.
While most offers allow you to maintain a decent margin on sales, some businesses cut prices even further by selling certain products at or below their cost. Customers will hopefully add other items to their cart as they shop, so you could make more money by using a loss leader.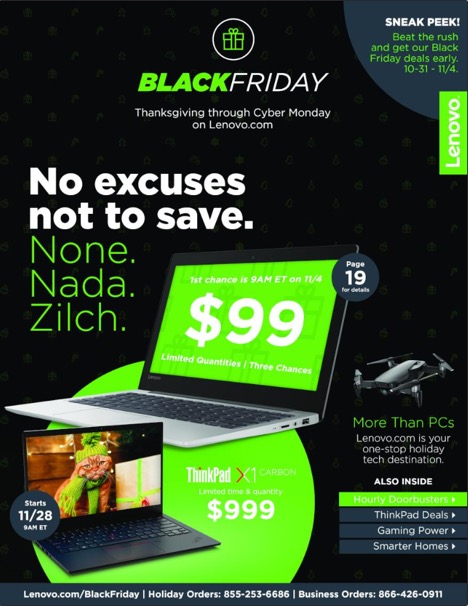 Note Lenovo's pre-Black Friday promo: the offer is clear, tempting, and timely. There are only 5 short days to capitalize on these offers, so customers need to act quickly to take advantage of them.
The majority of businesses keep sales open throughout Black Friday, but you should also consider providing limited-time deals to maintain customer interest and keep them coming back for new offers. Experiment with different deals to see what your audience is interested in.
Increasing traffic and orders is obviously the priority of any Black Friday campaign. That said, this is also the perfect time to take advantage of upselling and cross-selling opportunities to maximize average order value and make as many sales as possible over the holiday weekend.
#2. Prepare for Increased Traffic and Sales
Earning more money is always good, but it's critical to get ready for higher demand in order to keep things running smoothly on and after Black Friday. Logistical issues can prevent an otherwise successful campaign from achieving its potential, and many businesses underestimate the importance of these considerations.
The first step is preparing your website for increased levels of traffic. Black Friday often leads to substantially higher visitor counts, and these will either slow down or crash your website entirely, ending your offer before it has a chance to gain any momentum.
Similarly, you'll need to make arrangements for a potential uptick in sales starting on Black Friday and continuing through the rest of the holiday season. The last thing you want is to sell out early on and not have enough inventory to continue filling orders.
#3. Send Previews and Teasers to Generate Buzz
Some companies wait until Black Friday arrives to market their sales, but some customers will already have other plans. It's extremely difficult to stand out from the competition on the busiest shopping day of the year, especially if you haven't already laid the groundwork for a successful campaign.
You can generate advance interest in your upcoming deals by sending emails and making social media posts with a sneak peek at your best offers. Readers will already have your brand in mind when they start thinking about what to buy on Black Friday, so you can follow up with another email announcing more details.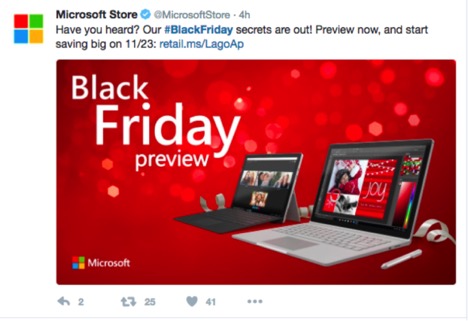 Microsoft launched teasers like this during Black Friday to get a jump on the shopping holiday. It's no secret that customers begin shopping for Christmas long before Black Friday, so by taking advantage and creating a bit of buzz around your products, you'll be beating the customers back during the holiday weekend.
#4. Optimize for Mobile to Capture More Customers
We all know the importance of a fast and intuitive website, but some marketers neglect the customer experience on mobile devices. A growing number of customers are shopping on smartphones and tablets, and they'll leave your site quickly if it fails to load as quickly as it would on a desktop.
Certain e-commerce platforms offer automatic mobile optimization, but you can also create your own solution. Some companies invest in a mobile app for even better functionality including faster speeds, easier access, and a more professional user interface. Of course, a dedicated app may not be worth the cost for smaller businesses.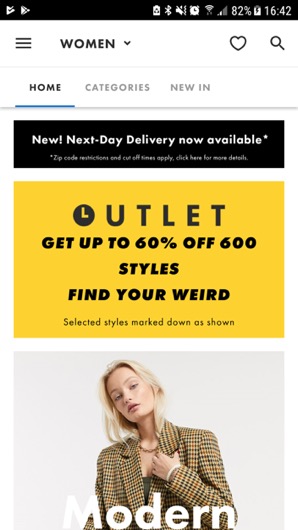 Asos is always a great example of a good mobile app for e-commerce- it's quick, intuitive, and mirrors the website perfectly. They're definitely worth looking to for inspiration this holiday season.
#5. Focus on Subject Lines to Draw Them In
Most marketers focus on the content of each email, but the subject can have an even greater impact on certain metrics. Improving your subject lines will substantially increase open rates, giving more users an opportunity to learn more about your brand and eventually make a purchase.
Certain words can be more powerful than others when crafting the perfect subject line. Check out how certain words in your email subject line can impact their open and click-through rates.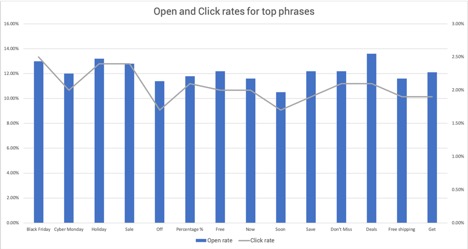 The best subject lines offer a quick preview of the value of an email and invite the reader to click through and learn more. You should always include the offer in the subject line so that customers know what they're missing out on. Make sure to write "Black Friday" for preview emails so that subscribers know what to expect.
#6. Provide Exclusive Benefits
Black Friday sales are the perfect way to engage with new users and increase your outreach, but your current customers are even more important. It's always much cheaper to sell to existing customers than new ones, so this should be one of your top priorities throughout the year.
You can reward customers for their loyalty in a variety of ways including things like early access and exclusive deals. If you're already offering 10% off, for example, consider also providing free shipping as an even greater incentive. Even small benefits will increase sales and show customers that you appreciate their loyalty.
These lead magnets are also an incredibly effective strategy for growing your email list and adding contacts for future campaigns. For example, offering free shipping to anyone who signs up for your email list will help you generate more conversions on Black Friday and continue engaging with those leads over time. You can also use exit-intent popups to give users one last chance to reconsider before leaving your site. 
Your Ultimate Black Friday Checklist
Start with an offer—give your audience fear of missing out
Prepare for increased traffic and sales—get ready for the holiday rush
Send previews—build interest in advance
Optimize for mobile—improve accessibility for all users
Focus on subject lines—get their attention immediately
Provide exclusive benefits—reward loyalty and grow your contact list