How do you create an ecommerce marketplace in 2022? Read on to learn how to create a successful multi-vendor marketplace this year!
Build your online marketplace today!
Benefit from a 7-day free trial, with no obligation or payment card
How do you create an ecommerce marketplace this year? After all, a multi-vendor marketplace can be a great way to build a successful business and have a bigger impact. 
Today, you learn how to create a digital marketplace like eBay, Etsy, or Amazon. 
Ready to learn more? Let's go.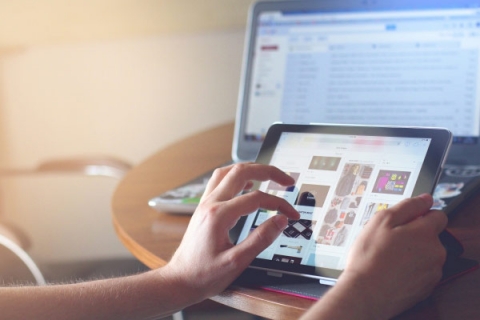 Source: Pexels
What is a multi-vendor ecommerce marketplace?
What do businesses like Etsy, eBay, and Amazon have in common? 
That's right, they're all ecommerce marketplaces. In other words, online marketplaces with multiple vendors. 
Traditionally, business owners used to start their own ecommerce stores. But today, it's increasingly common to start a multi-vendor marketplace and invite others to sell on it. After all, ecommerce marketplaces like Amazon are among the world's most valuable companies.
Ecommerce marketplaces can target both consumers (B2C ecommerce marketplaces) and B2B clients (B2B ecommerce marketplaces). Marketplace offerings can range from makeup to heavy machinery for specific industries. 
The benefits of an online ecommerce marketplace include:
Profitability
Ecommerce marketplaces tend to be more profitable than other ecommerce businesses. Think about it: An ecommerce store requires multiple extra costs like product development, inventory, and shipping. Those costs eat into your profit margins.
A marketplace website, on the other hand, doesn't come with these costs. You're responsible for the marketplace and to fill it with users, but the risks you're taking are much smaller. Once your marketplace is up and running, your running costs are also lower.
Popularity and convenience 
Some of the world's biggest companies are ecommerce marketplace websites (for example, Amazon alone is the world's most valuable company). It's clear that they offer a lot of convenience to consumers in a completely different way than ecommerce businesses do. 
Easy setup
Because you don't need to design and source products, an ecommerce marketplace is relatively easy to set up and start growing. You only need a profitable idea and a website (we'll look more at both of these below).
Scalability
Finally, ecommerce marketplaces are scalable. You don't need to mind inventories or shipping costs and times so you can scale as you wish. As long as you have sellers and buyers, your marketplace is up and running.
How to create an ecommerce marketplace 
Ready to get started building your ecommerce marketplace? Creating your ecommerce marketplace doesn't need to be overwhelming or require a lot of upfront investment. 
Instead, you need the RIGHT steps to get started. Here they are:
1) Who is your target market? 
Your first task is to figure out who your target market is. You see, you need to know who your customers are (both sellers and buyers) and why they want to buy from you.
For example, let's say you want to start a t-shirt marketplace. Is that marketplace going to attract a younger or an older demographic? Are you going to focus on a very specific niche (like people who like cartoons)? A geographical region?
Not only that, but you also need to understand WHY people want to buy from you. What's the reason they want t-shirts and your t-shirts specifically? 
To figure this out, talk to your potential customers. Go to where they would be hanging out (say, Reddit or another online forum) and ask them about what makes them buy the product you're selling.
2) What is your Unique Selling Proposition (USP)?  
The next step is to figure out your Unique Selling Proposition or USP.
What makes your marketplace different from other marketplaces? Why should people choose to buy from your marketplace, rather than from Amazon, Etsy, or eBay? 
For example, Teepublic is a marketplace that lets artists sell their t-shirt designs.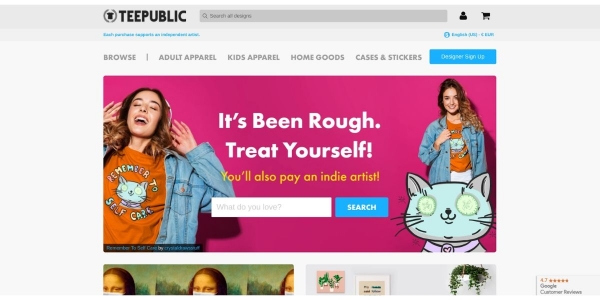 See how it makes sense for someone who loves unique designs to buy from Teepublic rather than Amazon? 
The same goes for Etsy. It's a marketplace for handcrafted items. 
You can't get handcrafted products on Amazon. 
To figure out your USP, think back at what you figured out in the last step. What's that gap in the market? 
Now, you don't need to uncover a completely new niche. Far from it. 
In fact, if there's already something similar on the market, you know there's an audience for what you want to sell.
To give you an example that hits close to home for us at Kreezalid, we weren't the world's first marketplace website builder. 
But as website designers, we had already worked with entrepreneurs who wanted marketplace websites. We knew there was a need for an all-in-one tool with simple drag-and-drop features, beautiful designs, and great customization options that catered to an audience of business owners with ambitious plans for their marketplaces. 
That's how we realized what our USP was and how we could differentiate ourselves from other marketplace website builders. 
3) Set up your ecommerce marketplace
When you know what your marketplace will be selling, it's time to set up your first minimum viable product (MVP).
What this means is that you shouldn't go all in and add too many bells and whistles to your website before you have some users, know what they want, and can use their feedback to develop your marketplace.
(The risk is that you create a marketplace that people don't know how to use or that doesn't include the features they want and need.)
To develop your website, you have a few options:
Custom-developed marketplace 
You can custom develop your marketplace and build it from scratch (or create a marketplace in Wordpress). The problem with this? You are looking at spending at least $20,000 on your website - and that's just the MVP. Changes and updates will cost you even more.
Use an ecommerce platform
You can use an ecommerce store builder, like Shopify. However, there's no Shopify marketplace feature and so if you want to create a marketplace with Shopify, you need to rely on apps. The problem with these is that they usually don't have a ton of features. As they're not Shopify's proprietary apps, their reliability can also be uncertain.
A no-code marketplace builder
The final option is to use a drag-and-drop marketplace builder, like Kreezalid. Kreezalid lets you set up your own marketplace in a matter of minutes. You can easily choose the features you need and the design you like best. You can add on things as you go and customize your marketplace.
4) Grow your ecommerce marketplace
If you follow the steps above, you now have an idea of what your marketplace will look like and a marketplace website.
The process looks pretty much like this:
Just one more thing left to do… Start attracting users to your ecommerce marketplace.
The best way is to tap into existing audiences. A few ideas include:
Go to Facebook or Reddit groups or other online forums where your audience is hanging out.

Partner up with a complimentary marketplace (if you sell designer items, that could be a marketplace or website for designer services). 

Use word-of-mouth marketing so that your sellers attract more and more buyers to your website.

Use a website like

Kickstarter

to get initial interest in your marketplace products. 
For example, Teespring started out with one campaign that went viral on Facebook. That wasn't enough to sustain growth, but they started getting more and more users from people who were using their site to create t-shirts. 
(Want more strategies? Read our post on marketplace marketing here.)
How to use multi-vendor ecommerce marketplace solutions
As we talked about above, there are a few ways to create an ecommerce marketplace. Here below, we'll focus on ready-built marketplace solutions, like Kreezalid.
Want to know how to use these solutions and set up your marketplace MVP and later your marketplace website? Here you go:
Create an account
The first step is to set up an account. On Kreezalid, you just need to give your email address and a few details about your business (such as the name of your marketplace).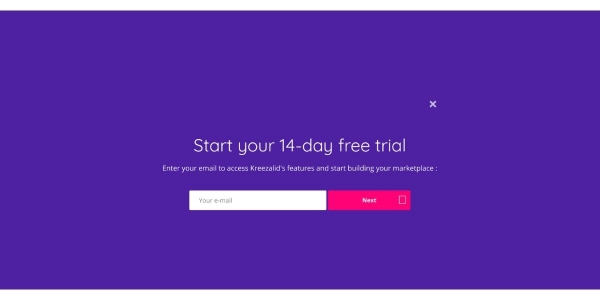 Design
Then, it's time to design your website. As said, Kreezalid offers a drag-and-drop tool, so you can change your design as you build your business. Kreezalid offers different themes for you to choose from.
Features
And finally, it's time to choose your site's features, such as user accounts, listings, and reviews.
Here's what a listing can look like (this is from our use case store).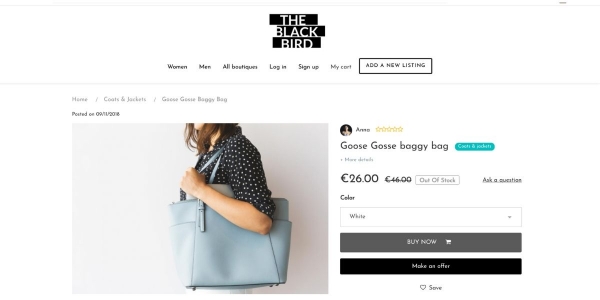 Again, you add different features with our drag-and-drop tools, making it easy to add and remove features depending on user feedback. 
Want to get started today? 
There you have it. Now you know how to create an ecommerce marketplace. What it comes down to is figuring out your USP and slowly but surely, growing a thriving ecommerce marketplace - just like Etsy and eBay. 
Want to start your own online marketplace right away? You can try Kreezalid for 14 days for free and set up your own ecommerce store. Try it here!