Curious how to build an online community for your marketplace? Here is everything you need to know to grow a community that helps your marketplace thrive!
Build your online marketplace today!
Benefit from a 14-day free trial, with no obligation or payment card
Want to learn how to build a community that helps grow your online marketplace? 
This is a great place to start. We've gathered easy steps you can put into action immediately to begin building a community that produces results. By keeping things easy and straightforward, you can get started building your own online community for your marketplace, no experience necessary.
Ready? Let's dive in.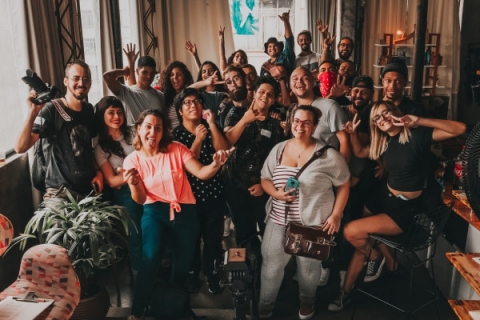 Source: Pexels 
Why should you build an online community for your marketplace? 
Before we break down how to build one, let's cover why a marketplace community is important. There are three big reasons.
Community creates engagement
First, a community builds engagement among your users. Engagement promotes an emotional commitment to a brand. A community has the potential to keep them active on the online marketplace platform and capture additional interest outside of conducting normal business. 
Community improves marketplace trust
Second, a community also builds marketplace trust. As people interact with others online in a like-minded community, it strengthens the trust they have among one another. This reflects on the trust they have with your marketplace.
Trust is essential to grow a marketplace or any business. Among business leaders, 55% of them consider lack of trust as a "foundational threat" to a company.
Community grows your user base
Third and lastly, an engaging community helps retain users and attract new ones. Why? 94% of people claim they're highly likely to recommend a brand if they are emotionally engaged with it. A community directly helps encourage word of mouth referrals.
Airbnb proves community matters to a marketplace
For example, just look at Airbnb. The company admits that "Our real innovation is not allowing people to book a home; it's designing a framework to allow millions of people to trust one another. Trust is the real energy source that drives Airbnb..." Through building a trusted community over 10 years, Airbnb grew to become the $100B company it is today.
So, how do you get started building your own marketplace community? That's next.
How do you build a community for your marketplace business? 
To build an online marketplace community, you must build it on both the seller and buyer side. Whether you segment the community or focus conversations on both sides, just be sure to address both sellers and buyers so they each feel included.
Here are the steps on how to get started.
Define your mission and values 
Before you can form a community for your marketplace, you must first define your mission and values. By sharing what you stand for, you attract like-minded people who share those values. In fact, 89% of customers are loyal to brands they share values with.
Ask yourself: Who exactly are your users? What exactly do you stand for? What do you work against or what problem are you trying to solve?
Make these responses well-known throughout your marketplace and within the community.
Tap into a community
Rather than starting your community from zero, why not tap into an existing one? Think about who you want in your community and find one similar online. 
A smart place to start? Facebook. Find a Facebook Group of those whom your marketplace caters for.
For example, if your business focuses on parents, join and engage with several Facebook Groups where parents spend their time.
Be a part of the community
To improve your community, you need to be involved in it. That means using your own product. During this time, focus on talking and listening to your users.
Being an active member in your community gives you the opportunity to connect with users, learn from other members, discover short-comings where you can improve, and find success stories. That's what's next.
Show your users
Enhance your community by showing your users' stories. Share their unique narratives on your blog, on Youtube or via social media like Instagram.
Sharing success stories builds social proof, especially early on. It lets those interested in your platform see someone relatable whom they can connect with. Testimonials, interviews and Q&As are all great methods to foster this feeling of community.
To see this in action, let's look back at the marketplace leader, Airbnb. They have a dedicated space just for sharing stories from the Airbnb community.
Host in-person events
Another way to effectively build a community is by hosting events. These events can be in-person or online but the main focus is connecting people face-to-face (even if that's virtually!). 
Events allow you to showcase your brand through real-life experiences. It also allows your tribe to connect with one another and with you. Here, you can improve your value proposition by gaining a better understanding of what they need.
If you don't feel that you have enough users, use a platform like Meetup.com or Facebook Live, that welcomes smaller groups. These more intimate events can be authentic and offer real connections that attendees will value. 
Over to you!
And just like that, you now know how to build an online community for your marketplace.
In essence, it boils down to presenting what your marketplace stands for and surrounding yourself with those who share the same mission.
If your community showcases your brand personality, promotes engagement, and allows users to collaborate, you're on track for building a loyal community that will help you grow for years to come. 
Want to build and design your own marketplace? Try Kreezalid for free!