How do you find investors for your marketplace? We're about to teach you. Plus, we're sharing a list of the top marketplace investors to check out.
Build your online marketplace today!
Benefit from a 7-day free trial, with no obligation or payment card
Looking for investors to raise capital for your online marketplace? This article isn't just going to explain how to find marketplace investors, but it also shares a list of the TOP investors worthy of your attention.
If you're reading this article, your online marketplace is in an exciting stage. It's ready for investors! Online marketplaces are growing in popularity and investors are certainly showing interest in their unlimited potential.
Get ready to learn how to find investors, where to find them, and who to target. We're breaking it all down for you, so let's dive right in.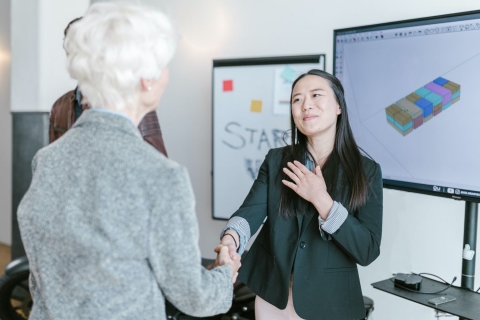 Source: Pexel 
How can you get an investor for your marketplace?
According to PitchBook, there are 39,551 venture capital, or VC, investors and 116,032 VC-back companies. Furthermore, there are 253,239 VC executives, many of whom are actively seeking their next investment opportunity.
And that's just venture capital. Let's not forget about angel investors, fundraising platforms, and other forms of marketplace funding.
So, how can you get an investor for your online marketplace? In short, it depends on what stage you're in. The type of funding you're aiming to raise should direct you to target a specific type of investor.
Getting early-stage marketplace investors
If you are in the early stages or pre-launch, think clearly about whether you need any investors yet. If you are in need of fast cash, consider applying for small business grants, bootstrapping via your own savings, or seeking an Angel Investor through your personal network or an online platform (more on that later). 
This initial investment should get your marketplace off the ground, prove your MVP (minimum viable product), and solidify your marketplace fit.
Getting marketplace venture capital or angel investors
As you marketplace gains momentum and becomes ready for more serious funding, consider marketplace Venture Capital or Angel Investors. This first round of funding, known as "seed funding," usually generates hundreds of thousands of dollars up to $1M.
In order to get these higher-level investors, you have to pitch a well-constructed marketplace business plan and more importantly, prove to these prospective investors that it's possible. In exchange for their seed money, you are exchanging equity or ownership of your marketplace.
It's important to note that securing marketplace venture capital is extremely challenging. One study revealed that the odds of receiving an equity check from one large VC firm is just 0.7%. Why?  VC investors are absorbing your marketplace risk and startups only have an 8% success rate.
Getting investors for high-growth marketplaces
Already gathered seed funding? Then your marketplace has made it to the big leagues and it's ready to host Series A, B, C (and onward) rounds of funding. Series funding rounds are for high-growth marketplaces with extreme potential. These rounds can raise millions from investors.
To conduct these, a valuation of the company is done before each round of funding. These valuations essentially determine the potential of your marketplace by evaluating the market size, your current revenues, and leadership or management. 
Where is the best place to find investors? 
Now that you know what type you're targeting, how do you meet investors? You need to look in the right places.
Where to find investors in person
First and foremost, tap into your own personal network. Your chances for success escalate if you can get a warm introduction. That said, don't be afraid to ask around. A friend of a friend may be your best chance at securing capital.
Next, expand your search into your professional network. Send a friendly email blast to former colleagues, mentors, employees, etc. introducing your marketplace and accomplishments thus far. Then, gently plug in that you're raising capital and open to referrals.
The other in-person place to meet investors is through networking events. Research upcoming networking mixers, startup-related events, niche groups specific to your vertical, and more conferences to mingle with others in the space. Soon enough, you'll be rubbing elbows with potential investors and scheduling pitch meetings.
Where to find investors online
Thankfully, the internet is here to help you meet investors.
Make it a habit to engage with LinkedIn and try to expand this professional network online. Post about your marketplace, share your milestones, and openly state that you're seeking investors. Once you make headway, a direct message on social media may open a door.
The other place to search for marketplace investors online is through equity crowdfunding platforms. The most popular platforms include AngelList, SeedInvest, StartEngine, CircleUp, and Wefunder. Pre-seed marketplace investors are active on these platforms and with the right profile and pitch, you can attract them without a warm introduction.
Even if you don't raise the capital via these equity platforms, these websites are powerful at getting your marketplace noticed by a new audience of people. This exposure may pay off later.
The top seed and early-stage marketplace investors 
Ready to start gathering seed money? If your marketplace is in its earlier stages or this is your first round of funding, consider these top seed marketplace investors.
Marketplace specialist VC firms to consider for seed funding:
Atlanta Ventures, United States

FJ Labs, United States

Starting Line, United States

NFX, United States

Market One, Poland

Peak Capital, Netherlands

Point Nine Capital, Germany

SpeedInvest X, Austria

Dutch Founders Fund, Netherlands (pre-seed)
Other VC firms to consider for seed funding:
Uncork Capital, United States

Homebrew, United States

SV Angel, United States

Big Sur Ventures, Spain

JME Ventures, Spain

Frog Capital, United Kingdom

Global Founder Capital, Germany

LeadX Capital Partners, Germany

Revo Capital, Turkey

Venture Friends, Greece
The top B2C marketplace investors 
Looking specifically for B2C marketplace investors? Here are some of the top VC firms that focus on B2C marketplaces and beyond.
Marketplace specialist B2C VC firms:
Chicago Ventures, United States

TCV, United States

Floodgate, United States

(Lyft)

QED Investros, United States

Jackson Square Ventures, United States

(Upwork and Offerup)

Axel Springer, Germany

(Airbnb and Uber)

Northzone, United Kingdom

Felix Capital, United Kingdom

HZ Holzbrinck Ventures, Germany

Lakestar, Switzerland
Other B2C VC firms to consider:
Accel Partners, United States

Founders Fund, United States

Softbank Vision Fund, United Kingdom

Naspers, South Africa

Northcap, Denmark

Target Global, Germany
Remember: As you begin researching venture capital opportunities, keep in mind that many of the largest firms handle both B2B and B2C clients, just like marketplaces!
The top B2B marketplace investors
Is your marketplace B2B? Great, because there are plenty of VC firms and investors interested in B2B SAAS startups and marketplaces. 
Marketplace specialist B2B VC firms:
500 Startups, United States

Autotech Ventures, United States

Battery Ventures, United States

Sova VC, United Kingdom

Balderton Capital, United Kingdom

Atomico, United Kingdom

Point Nine, Germany
Other B2B VC firms to consider:
Sequoia Capital, United States

Bessemer Venture Partners, United States

Boldstart, United States

SaaStr Fund, United States

Ventech, France

Unternehmertum Venture Capital Partners, Germany
Over to you! 
Now, you know how and where to find marketplace investors! If your marketplace business is a fresh idea, operates efficiently, and proves its place in the market, investors will flock to it.
Raising capital and seeking investors is almost inevitable for any scaling business. Even the best-funded companies are still actively seeking further financial help to expand. Just as a marketplace has unlimited potential online, capital brings that same unlimited opportunity. 
What type of marketplace investors are you more curious about? Let us know!