How do you write an online marketplace business plan? Here's all you need to know about writing a business plan for your online marketplace.
Build your online marketplace today!
Benefit from a 7-day free trial, with no obligation or payment card
How do you create an online marketplace business plan?
Look no further. Today, you get the exact steps to create your own online marketplace business plan. 
Want to learn more? Read on!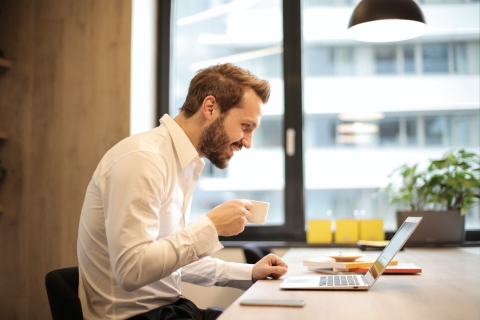 Source: Pexels
What is an online marketplace?
First things first: 
What is an online marketplace? A marketplace business is a platform where vendors and buyers meet and exchange value (usually, money). These can be e-commerce, rental, or service marketplaces in either the business-to-business (B2B) or business-to-consumer (B2C) niches. 
Marketplaces are growing fast. In fact, 47% of global online purchases happen via online marketplaces. And B2C marketplaces are estimated to reach $3.5 billion in sales in 2024.
Are online marketplaces profitable? 
Just like any business, online marketplaces can be profitable. For instance, if you compare online marketplaces to e-commerce or service businesses, the online marketplace business model can be far more profitable. 
E-commerce businesses require an inventory. Shipping and returns often eat up a big chunk of profits. Service businesses require high labor costs (unless you're doing all the work yourself). 
Online marketplaces, on the other hand, take time to build up but once you have traction, you have far fewer costs than most other business models. 
What is an example of an online marketplace? 
You likely know most of the bigger marketplaces: Amazon, Airbnb, Etsy, eBay, Uber, and Alibaba, to name a few marketplace examples. As marketplaces are growing, other big names are likely to pop up in most niches. 
Now you know what a marketplace business is. But how do you start one? 
The first step? A business plan. 
How to create an online marketplace business plan 
Next, let's look at how to create an online marketplace business plan.  
A business plan will help you gain clarity on the business you're about to start. And most importantly, you get an understanding of your target market and competition. After all, 20% of small businesses fail in their first years, but with sufficient preparation, you don't need to be one of them. 
Here's what a basic online marketplace business plan template looks like: 
Introduction
Executive Summary

Company Description

Product/Service Description 
Value Proposition
Market Analysis 

Value Proposition
Business Model 
Operations

Marketing

Sales Strategy 

Growth Plan

Management & Staffing

Financial Summary 
Introduction
Executive summary
An executive summary is a summary of your business plan. This is a short text snippet and includes a high-level overview of your business concept, marketplace, business goals, market, customers, value propositions, the scope of business, and online marketplace business model. 
Company description
A company description gives a brief overview of what your business is. It includes a description of your business structure, industry, what you're selling, your long-term plan and short-term goals, as well as your team. 
Marketplace description
Explain your pricing strategy and model, if your business is ready for the market, and if there are any intellectual property considerations you need to take into account. (Likely, there aren't.)
Value proposition
Market analysis
In this section, you present your target audience and why they want to buy from you. 
Target market
Your target market, your customers, are the focus of your business. Remember that as a marketplace business owner, you need to understand both your sellers and your buyers. 
Find out things like where they live, their age, education, income, and interests.
But also understand their psychographics such as what problem it is that they want to solve, why they can't solve it today, and what measurable outcome they want to achieve. 
Industry 
In this section, you present the size of your target market and its trends and trajectories. You get this information from news outlets, governmental statistics offices, and academic research. 
SWOT analysis
A SWOT analysis analyzes the strengths (what makes you unique), weaknesses compared to your competitors, opportunities (possibilities in your industry), and threats to your business. 
Competition
What does your competition look like? If it's intense, you won't see as high profits as if there is less competition. And if it's easy to start a business in your industry, there will be more competitors. 
Value proposition
Your value proposition helps you understand how your business will stand out. For instance, do you offer lower prices? Do you have a unique business idea? Or do you focus on a very specific niche? 
Ask yourself who your customers are and how you're different from the competition.
Business model
Operations
In this section, you list the workflows you need for making your business work. This includes logistics, suppliers, and inventory, as well as a contingency plan if something goes wrong. 
However, as an online platform business, you don't really need to think too much about your operations, as that part is handled by the sellers who sign up for your marketplace. 
Marketing 
How are you going to grow your business? You need to be specific about where your audience hangs out online and how you can reach them. Also, don't try to do it all at once -- focus on one or two strategies and expand to other strategies when you have some traction. 
Your marketing strategy needs to focus on:
Your marketplace pricing (if you use commissions, the percentage cut you get from every transaction) 

Your promotion strategy 

How your marketplace is different from other marketplaces 
Sales strategy
This section covers all the steps of your sales cycle. For instance: 
Facebook ad → user signs up → buys from a vendor 
However, note that your sales cycle also covers your vendors signing up. In a way, you're selling to two different groups of people. 
Growth plan
How will you grow your marketplace business? Make this a specific and realistic plan and explain the exact steps you'll take to grow your business. 
Management & staffing
Explain what the management of your business will look like. Likely, you won't have a team when you're just starting out. But define at what point you'll start hiring so that you're prepared for when that happens. 
Financial summary
Your financial plan is a summary of your income statement, cash-flow statement, and balance sheet. Here's what they mean: 
Income statement
What are your revenue and expenses? This is a profit-loss calculation that you can base on estimates if you don't have any sales at this point.  
Balance sheet
This is a list of your business assets; what you own and what you owe. 
Cash-flow statement 
This statement also takes into account when revenues are collected and expenses paid. With more money coming in than going out, you have a positive cash-flow statement. 
How do you start an online marketplace? 
Finally, how do you build your online marketplace?
First, you need to set up your marketplace website. 
You can either use a marketplace website builder or develop your own website. The cost of building a marketplace business from scratch is typically quite high (as is the case for most web development projects). A simple marketplace can cost $20,000 or more. 
That's why marketplace website builders are a great option. These typically come with drag-and-drop, no-code tools that make it easy to set up a website even if you don't have a technical background. 
Our own tool helps you get started fast, just like we help all of our other customers.
Of course, building your website is just step one. Step two is to grow it. For that, we have plenty of resources to help you get started: 
Over to you!
There you have it! Now you know how to create an online marketplace business plan. 
While a business plan can help you get clarity, don't spend too much time writing it. After all, your focus should be on starting your online marketplace.
Want to take the first step and build your marketplace website?
Try Kreezalid for free (no credit card required).