How do you choose the best online marketplace software? Here's our ultimate guide!
Build your online marketplace today!
Benefit from a 7-day free trial, with no obligation or payment card
How do you choose an online marketplace software in 2022? If you want to start your own online marketplace, a marketplace software can help you set up a website fast. 
And today, you learn how to choose the right marketplace SaaS.
Want to learn more? Let's go.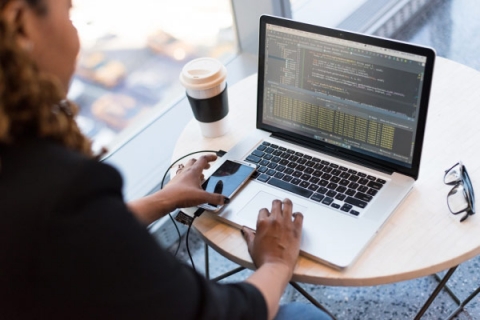 Photo: Pexels
Should you choose a marketplace software or develop your own marketplace website?
First things first: 
Should you use an online marketplace software or develop your own website? 
In most cases, a marketplace SaaS is more cost-effective, more flexible, and much faster to set up. 
You see, if you develop your own marketplace website, you need to go through all the stages of website development. We're talking months, if not a year.
And it will cost you at least $20,000 to build a custom solution. I know because that's what we used to do for our clients when we were running a design agency.
Instead, we set up our current business Kreezalid, a marketplace software, because we realized just how many marketplace entrepreneurs needed a better alternative. 
An online marketplace software comes with the following benefits:
You can set it up in less than an hour.

The costs are low and for new businesses, you can estimate around $100-$500/month. 

You can flexibly add on or remove features with drag-and-drop tools. If you want customized solutions, you can usually custom-build those functionalities. 

You can test an idea before investing a ton of money into it. 
But before you decide on a marketplace website, you need to know it works for YOUR marketplace business. That's what we'll look at next.
What marketplace business are you building? 
What's the most important factor to consider when choosing a marketplace software? 
That's right: The software needs to work for the marketplace business you're building.
Let me explain:
Different marketplace businesses need different technical solutions.
For example, Airbnb works with a website where people list their properties and rent them. It also has an app, but that isn't at the core of its business model.
On the other hand, Uber works mainly with an app. (After all, how convenient would it be to open a website every time you need to get a ride?)
You need to decide on your business model and the tech stack you need for it.
A marketplace software will usually let you set up a website, but for a custom-built app, you might need to develop something yourself.
However, most marketplace businesses can (and should!) get started with a website. 
When your marketplace grows, you can create a custom-built app.
Here are the most common marketplace businesses and what you should think about: 
E-commerce marketplace 
An e-commerce marketplace is a marketplace that focuses on selling physical products. These can be Business-to-Consumer (B2C), Consumer-to-Consumer (C2C), or Business-to-Business (B2B) platforms.
A few examples of successful e-commerce marketplaces include eBay and Etsy.
Your e-commerce marketplace software should offer a way for people to create listings. It should also have shipping options. 
Read our guide on starting an e-commerce marketplace here. 
B2B marketplace 
A B2B marketplace software needs to include shipping options if you offer physical products. If, instead, your marketplace is focused on services (think: Upwork), you'll probably want to offer features like escrow payments, which are released once the service is performed. 
Plus, remember that B2B transactions might need options like improved messaging functionalities that can be used by multiple people and a way to download invoices for tax purposes. 
Read all about starting a B2B marketplace here. 
Rental marketplace 
A rental marketplace, like Airbnb, lets users rent physical products or property. Here, your rental marketplace software needs to offer a way for users to list their property and set up escrow payments. 
And when we're talking about high-stakes rentals, like when people rent out their home, your users should be able to improve their trustworthiness with reviews and the overall security of their marketplace accounts. 
Service marketplace 
A service marketplace builds on the transaction of money in exchange for a service (babysitting, pet sitting, graphic design, house sitting, and so forth). 
Some example service marketplaces include: Upwork, Rover, and TrustedHouseSitters. 
Again, users need a way to build trust with reviews. Services might need a bit more back-and-forth negotiation to decide on a price (as opposed to physical products with a fixed price). Your service marketplace software needs to enable communication between users before they contract each other. 
Read our full service marketplace guide here. 
Digital assets marketplace 
A digital assets marketplace lets people sell and buy their digital assets, like designs, online courses, and ebooks.
The most important feature of a digital assets marketplace software is the ability to download digital assets. (Otherwise, users have to send their files separately, which makes the process more difficult and less secure.)
(Not sure what type of marketplace you should build? No worries, check out our best marketplace ideas here.)
What features does the marketplace software offer?
Once you've assessed if a marketplace software works for your marketplace business, it's time to evaluate its features.
When you're starting out, you don't need THAT many features.
You see, you should start with a Minimum Viable Product (MVP) to first test your idea.
Once you have a few users and you know your idea will work (people are buying and selling on your marketplace), you can move on to adding on more features and building a more complex website.
Your MVP features
You MVP features include:
Listings

User accounts

Payment solutions

A way to search or browse listings.
In other words, ask yourself: What are the features users MUST have to be able to transact on my marketplace? 
Use nothing more and nothing less.
Advanced marketplace features
Once you've validated your idea, you can add on many more features:
Messaging solutions.

Language options.

Organizing listings.

Multiple delivery options.

Multiple payment options.

And so forth.
Customization
When you've grown a fully-fledged marketplace business, it's time to start thinking about feature customization.
Does your marketplace software allow you to customize their templates? If it does, that's a great sign. 
For example, the features we offer at Kreezalid are optimized for both new and more advanced entrepreneurs. 
The idea is that you will have the features you need at every step of your marketplace.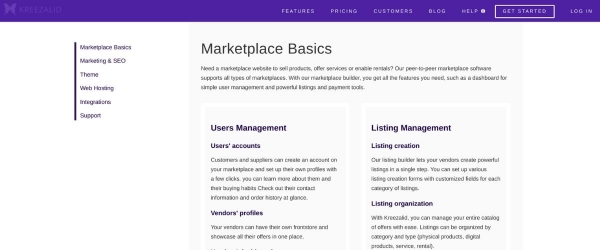 You can also choose to customize your Kreezalid marketplace platform. 
Does the marketplace software have testimonials?
Finally, a good way to source your online marketplace software is to look at its testimonials.
Reviews show that the marketplace website builder you're considering is probably legitimate. (Obviously, you'll want to do some other due diligence, too, like google the company.)
For example, at Kreezalid, we have a good number of reviews on sites like Capterra.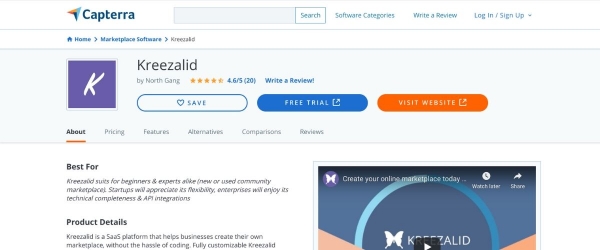 You can read them yourself here. 
The thing is:
Make sure your marketplace builder is reputable and that it fulfills your needs. 
Get started today!
There you have it. Now you know how to choose your online marketplace software.
Evaluate what your needs are and choose a marketplace software that works for those needs. There are several different marketplace websites out there. You'll want to choose one that works for both beginners and advanced marketplace entrepreneurs and that has the features and support you need. 
Want to get started right away? 
Try out Kreezalid for 14 days (no credit card information required).