What are the best marketplace website templates and themes? We're sharing our top 15.
Build your online marketplace today!
Benefit from a 14-day free trial, with no obligation or payment card
When building an online marketplace, there's no reason to start from scratch. There are so many amazing marketplace website templates and themes to choose from that will give you a big advantage when starting out.
If you're looking for the best themes out there, you're in the right place. Keep reading for 15 of the top online marketplaces available NOW.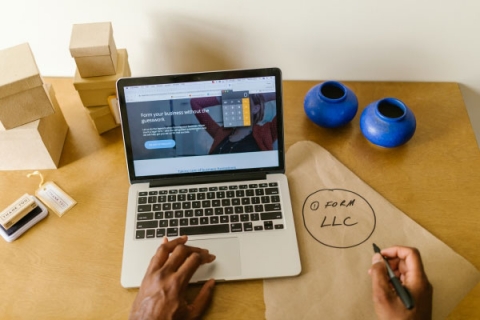 Source: Pexels
How to choose a marketplace website template or theme
There are two clear options when deciding how to design an online marketplace: doing it yourself via a platform like WordPress, or using a drag and drop tool, like Kreezalid.
Whether you choose WordPress or a drag and drop builder, you can choose a template or theme to give you a solid foundation. Marketplace website templates are the easiest, fastest, and most cost-effective way to build your marketplace.
WordPress is a great website-building platform, but it's not ideal for all marketplaces. Some marketplaces may be limited in the end because WordPress isn't designed to host multi-vendor marketplaces. Many sites require plugins and widgets which may require coding or additional costs. 
That means you may be stuck as you grow your business or pivot your business model. Without the potential to squeeze more profits from third-party sales, you may be leaving money on the table.
A drag and drop tool is a smarter solution for many because they prove to be much more customizable and flexible. They are specifically designed with marketplaces in mind catering to specific niches and removing a lot of the guesswork. Plus, they're beginner-friendly and some tools are so simple, you build a marketplace in just a few hours.
In short, when choosing a template for your marketplace, consider the future of your business and make sure you're not choosing a theme that could limit you.
6 Most Popular Marketplace Website Templates for WordPress
WordPress powers 39.5% of all sites on the web, and for good reason. Although we recommend using a drag and drop tool, many people choose to use WordPress to launch their marketplace. Here are 6 of their most popular marketplace templates to consider if you decide to work with WordPress too.
At first glance, Ekommart reminds us of an Amazon-style marketplace website. With large, separated sections above the fold, this theme really looks like a marketplace. This all-in-one eCommerce WordPress theme is a great choice for beginners because it has 23+ prebuilt homepages, so you can really experiment with what's right for you. Licenses start at $59.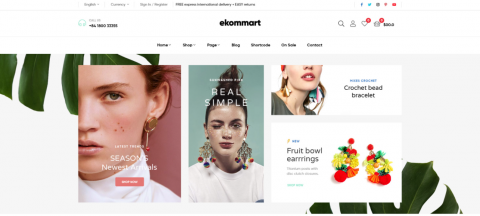 This theme is notable for its cool countdown homepage ticker. If you run sales regularly, this feature alone could sway your theme choice. Ambesten is a modern take on marketplaces with sleek banners, large imagery, and many column grid options to display and arrange a large number of products. Plans start at $60.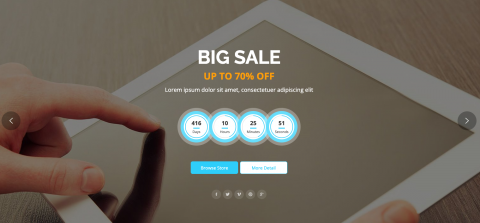 This theme caught our attention because it looks more like a photographer's portfolio than a marketplace - but in a good way. Its beautiful layout is unique and would appeal greatly to a visual or younger buyer. If you're catering to Gen Z's and Millenials, considering Urus may be a smart choice. Licenses start at $58.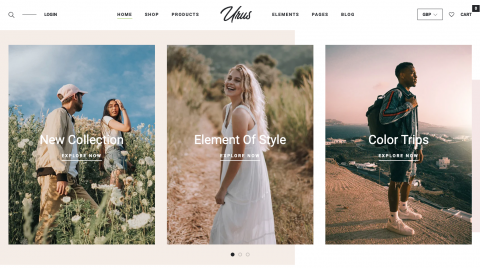 This is a strong example of a theme that's hyper-focused on a niche. Pixefy was designed for stock photo marketplaces, catering to photographers and other like-minded creatives. Themes like Pixefy can be a good choice if your business model aligns with theirs. Licenses start at $59.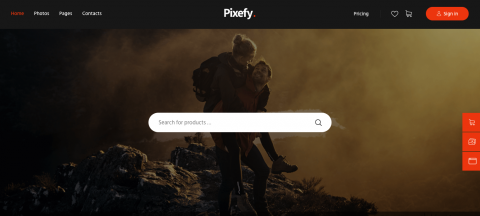 Interested in building a marketplace that caters to events or ticket sales? Meup could be your favorite WordPress template as it's designed for things like concerts, conferences, bookings, and more. Licenses begin at $59.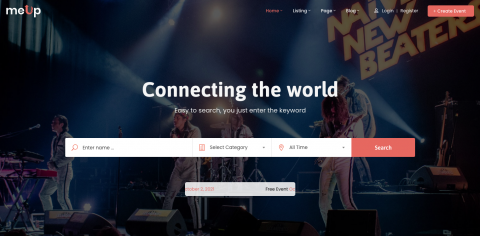 Cartzilla deserved spot #6 on our list because it's extremely customizable. No matter what niche your marketplace is serving, Cartzilla offers a smooth and engaging user experience. A license to the Carzilla marketplace website template begins at $59.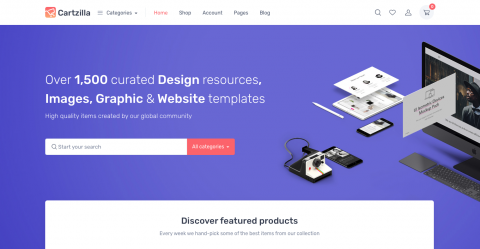 9 Best Marketplace Website Themes 
The theme you choose may start as a template, but it won't look like it when you're done. Drag and drop builders plus so many theme options offer endless customization. You can build your dream marketplace without coding a thing and add useful feature blocks by simply dragging and dropping.
Here are a few of the best marketplace website themes through this method. 
1. The Black Bird
Not only does The Black Bird marketplace website theme look modern and beautiful, but there's a big reason why it's topping our list: it's FREE. This free and responsive theme was built with fashion and beauty marketplaces in mind, but it would work for other businesses too.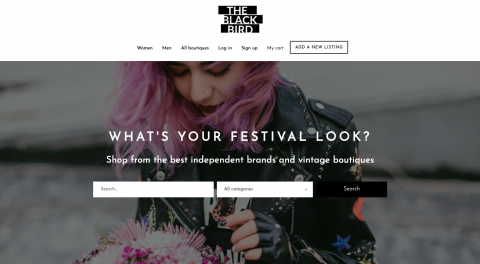 2. Yourbnb
Does this look (or sound) familiar? If you're interested in launching a rental or services marketplace, Yourbnb gives you everything you need to look and feel like the trusted Airbnb platform. You can launch with this theme for $159.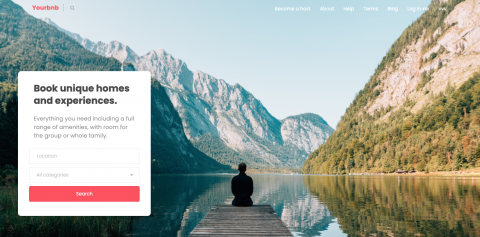 3. Outrageous
Fully responsive and customizable for all types of businesses, Outrageous is a versatile marketplace theme. Its editorial style design makes it attractive and extremely user-friendly. One additional perk is its unique styled buttons that give a millennial flair. These little add-ons will appeal to younger shoppers. Outrageous can be yours for $89.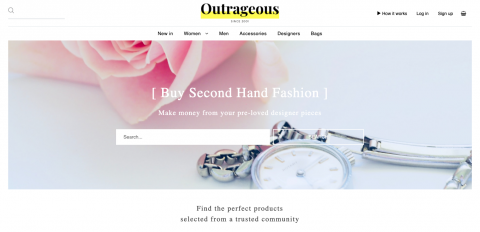 4. Paradigm Shift
This responsive landing page will make your marketplace very different from other sites. Paradigm Shift's distinctive split design displays information and marketplace items in an eccentric way that encourages visitors to keep scrolling. Another reason this marketplace template is ideal for a new business is that it's FREE.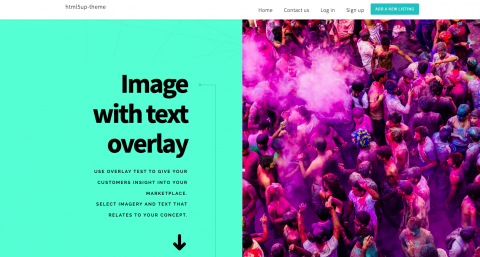 5. Minimalist
If you want your products to do the talking, the Minimalist may be the theme for you. Minimalist is elegant with black and white design features, making it the perfect fit for selling physical goods or digital assets. This theme is $129.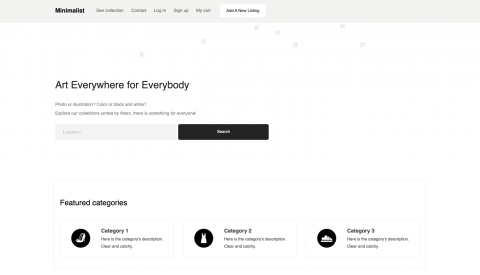 6. Beauty Supply
As the name suggests, this marketplace template is the perfect choice for someone with a beauty supply niche in mind. Beauty Supply supports bright colors and design elements to grab the attention of a younger target audience. This template costs $159.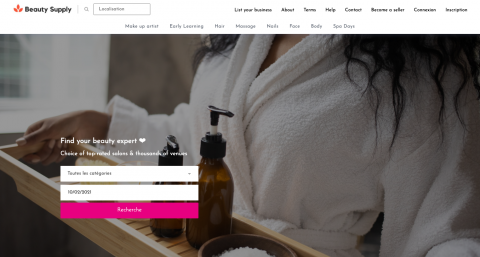 7. Wild Spirit
This template brings multiple color options to the table. With built-in features and easy-to-navigate menus and banners, your marketplace users will enjoy the robust simplicity Wild Spirit offers. You can try this template for $89.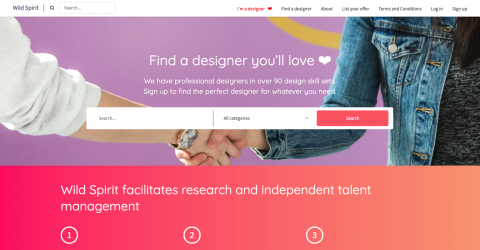 8. Capsule
Do you like minimalist design, but want a pop of color? Capsule is an ideal template choice for a sleek, but interesting marketplace layout. We think it gives off a Silicon Valley startup vibe. This theme was designed flawlessly for service-based marketplaces or those selling digital assets. Try it for $159.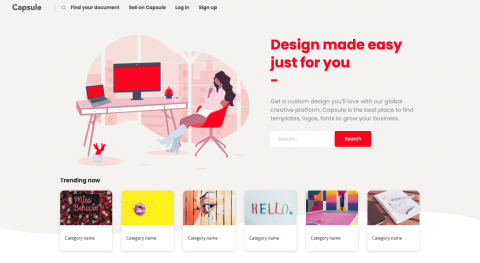 9. Matchamarket
Clean, dreamy, and calm to look at, Matchamarket is the perfect choice for a product sales platform. It offers multiple color options, but we're fans of the classic scheme it comes with out of the box. This template is $159.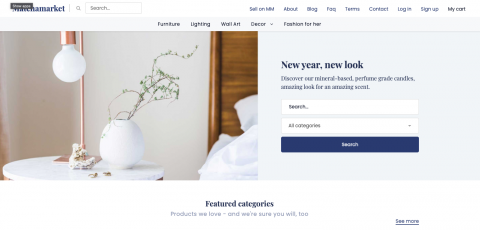 Over to you!
Now you know this year's 15 best marketplace website templates. 
From browsing this list, you know the wide range of features and designs available right out of the box. Templates and themes give you a head start to win with your marketplace - as long as you choose the right one for you.
Want to build and design your own marketplace? Try Kreezalid for free!