Curious how online marketplace technology works? In this blog, you're going to learn how it works, why it's different, and how to choose the right marketplace technology for you.
Build your online marketplace today!
Benefit from a 14-day free trial, with no obligation or payment card
Want to know how online marketplace technology works?
You're in the right place. By understanding how marketplace technology works, you'll learn how to build your own marketplace website by choosing the best platform for you.
Ready to learn all about marketplace technology? Let's dive in!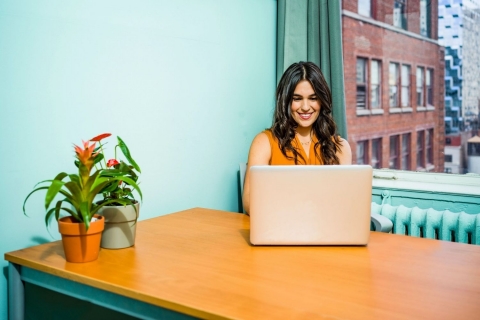 Source: Pexels
What are online marketplaces and how do they work?
Let's begin with some basics. In order to understand how this unique technology works, we must be familiar with what online marketplaces are and how they function as a business.
What are online marketplaces? 
An online marketplace is a platform where sellers and buyers meet to exchange a value such as products, rentals, or services. Since these marketplaces are online, they can be business-to-consumer (B2C) and business-to-business (B2B).
Online marketplaces are different than other online businesses for two main reasons:
Online marketplaces only facilitate the transaction and don't sell things directly to the end consumer. Think of the marketplace as the middleman connecting the seller and buyer.

Online marketplaces are unique in that they host multiple vendors (sellers). The marketplace works to advertise the vendors' goods to its online visitors (shoppers).
In short, online marketplaces primarily function to create a safe environment for both vendors and shoppers. Marketplaces generate both sides of the e-commerce transaction—the supply and the demand.
The benefits of using online marketplaces
There are many benefits to using (or building!) an online marketplace. For starters, using an online marketplace gives shoppers access to multiple vendors at once. Marketplaces provide variety that online single-vendor stores do not. 
The next big benefit is that online marketplaces are growing in popularity year over year. One-third of all US business is conducted online. Of this, 63% are marketplaces. As more consumers adopt online shopping, the need for more niche marketplaces is expanding.
Plus, marketplaces control how product listings are displayed, guiding the consumer during their journey. The power to control user behavior has led marketplaces to become more profitable than other types of business models.
On that topic, that leads us to our next benefit.
Lastly, another benefit to building a marketplace is their flexibility and profitability. Marketplaces can generate revenue in ways that traditional stores cannot. For example, marketplaces can make money via impressions, clicks, purchases, memberships, a combination of these actions, and more.
What is online marketplace technology? 
Now that you know about online marketplaces and their benefits, let's dive into what powers them: their technology. 
First, we'll define what online marketplace technology is and how it's different than e-commerce technology. Then, we'll discuss which technology would be best for creating your marketplace website this year.
A definition of online marketplace software 
In short, marketplace software enables users to design, launch, and manage digital storefronts. Also called multivendor marketplaces, marketplace software is unique because it hosts products and/or service listings from multiple vendors, not just one.
Marketplace software helps you create a marketplace website rather than developing it from scratch. Developing your own marketplace can be extremely costly and time-consuming. Coding a custom marketplace website can cost up to $150,000 depending on where your developers are based and take over 1000 hours to develop.
Marketplace software lets you launch a marketplace almost immediately. 
Using marketplace technology streamlines the process, lowers the overall cost, and provides many marketplace features without the need for coding. 
Some basic features that online marketplace software includes are user and listing management, vendor communication, email templates, payment gateways, SEO and marketing, and many more. As you can imagine, coding these complex features from scratch is difficult.
So, how do you pick which online marketplace software to use? That's next.
How to choose the right online marketplace platform for your business
When choosing the right platform for your online marketplace, there are multiple factors to consider. We recommend ensuring that your platform choice offers:
A no-code tool

that lets you edit your marketplace without needing to hire a web developer. You want the power to make changes yourself at any time.

Easy to use.

Whether you're a seasoned tech professional or completely new to this, be sure to choose software that's easy to use (and has

great customer support

when you need help).

 

Easy to scale and grow. When you first launch your marketplace, you may forgo some features to keep things basic. However, as you scale or your marketplace business plan pivots, you'll want the ability to adopt new features and scale without needing to switch platforms.
These non-negotiable features will set your marketplace up for success. Now, which marketplace platform is best? Let's take a closer look at the industry's top contenders.
Top online marketplace platforms 
There are many online marketplace technology platforms. Here are five of the most popular marketplace platforms that include the three must-have features we mentioned above.
This popular marketplace platform is ideal for launching an MVP, new entrepreneurs, and small to midsize businesses (B2C, B2B, and P2P) that are looking to scale. Kreezalid is an all-in-one platform with easy drag-and-drop technology that enables users to launch a marketplace pretty much right away. Plus, its variety of customization features is available whenever you're ready to scale.
2. WooCommerce
WooCommerce isn't its own platform, but rather a plugin for WordPress. Regardless it's a very popular option for those who wish to use WordPress as their website foundation. Other open-sourced plugins add versatility to WooCommerce, but we recommend having some technical knowledge and a solid understanding of WordPress before choosing this marketplace platform technology.
3. Arcardier
Arcadier is a popular SaaS marketplace platform that offers self-service and custom-built marketplaces. It's ideal for both small and large businesses because its features are customizable and scalable. Arcadier focuses on engineering ultimate flexibility, however, to fully utilize this you may need to hire a developer for API adaptability.
4. Sharetribe
Launched in 2008, Sharetribe was one of the first marketplace builders to hit the internet. It's easy to use and customizable catering to both small and big businesses. Sharetribe doesn't require any technical knowledge to get started, so it's ideal for those starting out. Plus, its plethora of e-commerce features will likely fit most of your current and future needs.
5. Shopify
Shopify deserves a spot on any e-commerce list. Shopify is the biggest e-commerce website platform in the USA, but it focuses mainly on single-vendor storefronts. It may lack some functionality necessary for multi-vendor marketplaces without additional plugins. Also, take note that some Shopify plans don't include customer support, so if you predict you may need assistance, this may not be the best platform choice.
Over to you!
And just like that, you know how online marketplace technology works!
Understanding how this unique technology works will not only help your marketplace succeed but empower you to make better business decisions. Leveraging marketplace technology will further customize your platform to attract more vendors and shoppers, grow your niche, and enhance your business.
Eager to get started as soon as possible?
Try Kreezalid for free today with our 14-day trial (no credit card required).