Are you wondering what in the world to name your online marketplace? Here are the best online marketplace name ideas to help you get started.
Build your online marketplace today!
Benefit from a 7-day free trial, with no obligation or payment card
Launching a new online marketplace is a big project that requires many vital decisions. One of the most important choices you will make to determine the success of your marketplace is deciding what to name it. 
Some of today's online marketplaces have become household names. It's hard to meet someone who hasn't heard of Amazon, Etsy, or eBay. Naming options are endless, so where do you begin?
Keep reading for 2022's best online marketplace ideas. We'll share the importance of branding, the best online marketplace name ideas, and guide you on how to choose the perfect name for your new marketplace. Let's get to it.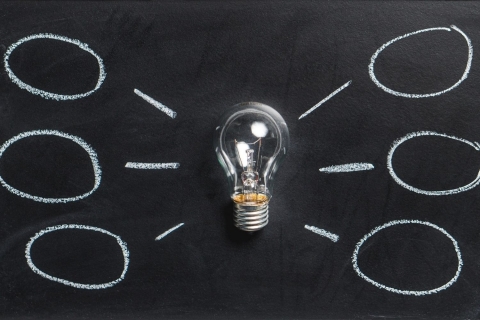 Source: Pexels
What is a marketplace business?
Before we worry about naming one, let's answer the question: What is a marketplace? 
In short, a marketplace is a platform for vendors and buyers to meet and exchange value. This exchanged value can be physical goods, like buying a TV from Amazon, or digital goods, such as downloading a custom font from Creative Market. Marketplaces can also sell services, like renting a condo on AirBnb or hiring a photographer on Clik Trip.
The biggest differentiator of a marketplace and a traditional eCommerce store is that a marketplace provides shopping from many different sources. Plus, the marketplace does not own any inventory. They simply present a selection of vendor's products and/or services and facilitate a transaction.
There are infinite examples of marketplaces and niches for them to cater to. With that said, there are limitless names to choose from. How do you name a marketplace? That's next.
How do you name a marketplace?
A brand name can make or break a business. Why? A name is a part of your overall branding.
Branding is vital because it creates a (hopefully positive) memorable impression on your consumers. Your branding lets prospects know what to expect from your company and helps you differentiate from your competitors. Your branding should represent who you are as a business and how you want to be perceived.
Your brand name is often the first thing people see. Therefore, it's your first impression. According to Inc., a company name is just as important as its function.
Quality branding and a good name also build trust. Considering 88% of consumers think trust is "critical or important" when deciding which brands to buy or use, creating marketplace trust is essential. That includes finding a domain name for your marketplace too (but more on that later).
When naming your marketplace, you should start by thinking of your future customers. How do you want them to feel? What do you want to convey to them about your business? Let's answer those questions to generate marketplace name ideas next.
How to generate marketplace name ideas
Let's brainstorm some marketplace names! To come up with fresh and unique marketplace naming ideas, here is a list of exercises to get your imagination working.
Write a giant list of WHAT, HOW and WHO.

Make three large columns and write down as many words and phrases as you can related to WHAT your marketplace does/sells, HOW you want people to feel, and WHO you're selling to. Once you have a long list, circle words that stick out you and brainstorm combinations from there.

Consider your niche and industry slang.

If your marketplace is catering to those within a specific niche or industry, why not use a term they're familiar with?

Think about your online community.

When you build an online marketplace, you're also

building an online community

. Draw out plans on how you want your online community to engage with you and interact with one another. This may spark an extra idea or too.

Brainstorm metaphors and related words.

Depending on how you want visitors to feel, consider a name that conveys it metaphorically. For example, cheetahs are fast and mountains are stable. Using metaphorical elements can help you paint a picture without being literal.

Try a marketplace name generator.

Still totally lost? Use a name generator and test your luck with an algorithm and AI. Who knows, you may love what it spits out!
Best online marketplace name generators 
Looking for more help to name your marketplace? Here are some of the best online marketplace name generators you can give a spin. Some of these name generators search domain names and some provide logos to spark even greater branding inspiration.
How to choose a strong marketplace business name 
Picking a marketplace name is harder than one might think. A strong marketplace name should convey the uniqueness of your site and be something you are proud of. Your name is a representation of you as it should share your passion and elevate what you do. 
To choose a strong marketplace name, keep these extra tips in mind:
Be sure to search domain names as you go.

Before you fall in love with a marketplace name, check if the domain name (or a version of it) is available. If possible, your name should be your URL since a domain name marketplace is better for branding.

Don't invite too many cooks into the kitchen.

Only involve key decision makers into the naming process. Too many opinions can result in a too "safe," aka boring, name! Keep your circle tight when brainstorming names, then ask for others' advice afterward.

Make sure your name won't limit future growth.

Before putting something specific in your name, like a geographical location or industry-specific word, be sure that you can grow beyond it. For example, the fitness brand Alo Yoga had to drop yoga from their name when they expanded into other workout genres!

Remember, no idea is too crazy.

When you're brainstorming names, write down any and all ideas that come to mind. Don't factor anything out until it's written down. Even an initial bad name idea could spark inspiration for a great one.
Over to you!
Voila! Now you know some of today's best strategies to choosing an online marketplace name.
Whether you use one of the online name generators listed above or brainstorm it the old fashioned way, the best marketplace name is one that you—and your customers and vendors—love.
In the end, just follow your gut. A great name will create a memorable first impression, so if an idea catches your attention while your brainstorming, lean into it. You'll find it. Until then, good luck at the name game!
Ready to start building your own online marketplace? Start with Kreezalid for free!