Do you want to build a marketplace without confusing coding? You're in the right place to learn exactly how a no-code marketplace is entirely possible, even easy to create, in 2022.
Build your online marketplace today!
Benefit from a 7-day free trial, with no obligation or payment card
Looking to learn how to build a no-code marketplace in 2022? There are plenty of ways to get around the complicated process of coding or building a marketplace from scratch. By the end of this post, you'll understand how to build a marketplace without code, the best marketplace software on the market to do so, and more.
Ready, set, let's go!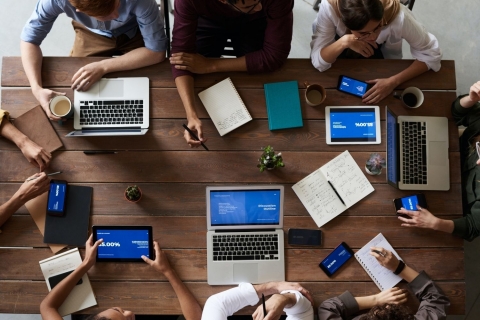 Source: Pexels
How to build a marketplace without code
Online marketplaces offer unrivaled convenience and benefits to consumers so it is no wonder that this type of business is growing more than ever. Over 79% of Americans go online every day and 15% of online shoppers make a purchase every week. In 2020, the top 50 U.S. marketplaces grew their sales 40%, and it's not expected to slow down.
Many entrepreneurs (maybe you!) are noticing opportunities for niche marketplaces and are curious how to build an online marketplace website. Previously, marketplaces had to be built from scratch which is costly, time-consuming, and quite frankly, difficult! That's why software builders, like Kreezlid, began.
Before Kreezalid was founded, our founders ran a web development agency for marketplace owners. After developing site after site, they realized that there was a desperate need for a no-code tool to expand complex marketplace features to more people. They now offer their hand-crafted code to the masses for unique shopping experiences.
Thanks to epiphanies like that, there are now easier ways to design an online marketplace without designers, coders or agencies.
But what, exactly, are the benefits of no-code marketplaces? Let's take a look. 
The benefits of a no-code marketplace
There are many benefits to opting for a no-code marketplace, but the biggest ones include: an easier launch, flexibility, cost-savings, and customization. Let's break each benefit down.
Building a no-code marketplace via a builder requires zero technical skills, let alone much software knowledge. With ready to go templates, much of the work is done for you. Then, easy-to-use drag and drop tools allow you to visibly design your marketplace and add unique features, no CSS or HTML needed. You can launch a marketplace in as little as an hour!
Assuming your new business takes off, you may be curious how to scale your marketplace. A no-code marketplace allows the flexibility to pivot your offerings and add on new features once you grow into them, avoiding coding them up front.
Next, no-code marketplaces save you a lot of money. Building a marketplace from scratch can take around 1,044 hours to develop, so depending what country you hire your developers in, the cost can quickly stretch to 6-figures. A marketplace software is a simple monthly subscription.
Lastly, you can still build your dream, niche marketplace and enjoy complete customization. How? Choosing from unique templates, and adding exactly the features you need. Some of the no-code features Kreezalid offers are user and listing management, payment gateways, email marketing, SEO assistance, analytics, blogs and much more.
The best marketplace software 
Now that you understand why a no-code marketplace is a smart strategy to build your marketplace, it's time to choose the best marketplace software for your goals. Here are 7 of the best marketplace software available to choose from.
1. Kreezalid
Kreezalid is one of the industry leaders and is ideal for launching an MVP or full B2B and B2C marketplaces. Thanks to its no-code software, Kreezalid doesn't require technical knowledge to get started and with easy drag-and-drop functionalities, clients can build a marketplace in less than one hour.
Since it was built specifically for marketplaces, it has everything you need under one roof so additional plug-ins or coding is not necessary. Some of Kreezalid's unique benefits include:
Reduced production time

Reduced cost of development

Quick and easy set-up

Elegant and responsive design

Modular
And if you ever need help, their customer service line is always ready.
2. Sharetribe
Sharetribe is one of the oldest marketplace builders and it remains a top option as it continually evolves. Like Kreezalid, it is easy to use and its customizable options cater to all kinds and sizes of businesses. In fact they advertise being able to help at every stage of your business life cycle. Sharetribe offers many of the same eCommerce features as other builders and it's trusted by over 1,000 marketplace owners. However, some of their premium features that set Sharetribe apart may require a developer. The site has a directory of certified developers to hire if needed.
3. Shopify
As of 2021, there were nearly 2.3M active websites using Shopify. It is certainly one of the best eCommerce website builders available, but it was designed to cater to single-vendor storefronts. This focus may mean some lacking functionality when it comes to marketplace features like seller/vendor profiles. That said, Shopify's Marketplace Kit (an additional plug-in) can be installed to any website to add these features. 
4. Airdev
One of the newer options on this list, Airdev is a promising no-code marketplace builder. They are all about the no-code approach to increase launch speed and flexibility. The big difference is that Airdev connects you with a project manager/team and builds your marketplace for you. If you want a hands-off approach, Airdev can develop your custom marketplace and make tweaks as you scale with continued customer support.
5. CS-Cart Multi-Vendor
As the name suggests, this professional marketplace platform empowers one to invite vendors, give them micro-stores, and collect commissions. CS-Cart has over 500 marketplace-friendly features like SEO, marketing, and mobile-compatibility. At the time this was written, CS-Cart had over 1,300 marketplaces worldwide making it one of the larger software companies on this list.
6. Tackle.io
This cloud-based marketplace builder is a go-to-market solution for those wishing to sell software. So, if your marketplace is in fact selling software instead of physical goods, this may be worthy of consideration. They advertise a zero-engineering approach, leaning into the ease of building and managing a no-code marketplace. 
7. WooCommerce
If you love Wordpress and wish to host your website there, then WooCommerce is the plugin you need. WooCommerce adds additional versatility, but may require installing other open-source plugins too. Having both Wordpress and plug-in technical knowledge is necessary for this option, yet many do choose this combination.
Over to you!
That's all, folks! Now, you understand how to build a no-code marketplace.
With the right marketplace software, you can skip coding and use-friendly website builders to design the marketplace of your dreams. 
Ready to build your own no-code marketplace? Try Kreezalid free for 14 days, no credit card required.